Lydia Nylander - Chair
Appointed July, 2016 | Appointed July, 2016
Country of Origin: Sierra-Leone
Lydia Nylander serves as Director of Social Impact for Shea Radiance LLC on Shea Safety Solutions, a grassroots project designed to find innovative solutions to the health and safety challenges facing the Shea industry. She also serves as a Risk Management Advisor in the USAID Government to Government Risk Management Division, providing expert advice and guidance on broad international projects with national, sub-national and sector level impact related to sustainability and country ownership. Prior to joining USAID, Nylander assumed senior policy, monitoring and evaluation roles at the FDIC and the US Department of Justice. She is also a former Commissioner for the Mayoral Committee on Women for the District of Columbia. Lydia gained her Bachelors of Law at the University of London and has a Masters in International and Comparative Law from the GW University Law School.
Abdel Maliki
Appointed July, 2016 | First Term Commissioner - Vice Chair
Country of Origin: Benin
Abdel Maliky has experience in business and finance. His background combining French, Muslim, African and American education provided him with the unique abilities and impressive breath of knowledge. Abdel Maliky holds an MBA and an MS in Actuarial Science. As an Actuarial Consultant for Fidelity Investments, he has advised Chief Financial Officers, Chief Investments Officers, and HR. Officers of Fortune 500 companies on several financial and operational issues.

Koteid Nicoue
Appointed on October 27, 2015 | Second Term Commissioner - Secretary
Country of Origin: Togo
Koteid Nicoue is passionate about designing partnerships that leverage the resources of the private sector to build sustainable projects in communities around the world. He works as a Program Coordinator at PYXERA Global, an international non-profit organization based in Washington, DC. In this role, Koteid works to build the capacity of social enterprises and organizations working in areas of technology, youth employment and empowerment, and community development. Koteid graduated from the University of Iowa with a Bachelor of Arts in International Studies and French in 2012.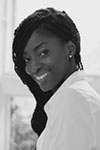 Nana Ama Afari-Dwamena
Appointed on October 27, 2015 | First Term Commissioner
Country of Origin: Ghana
Nana Ama Afari-Dwamena brings her expertise in community engagement and public health to her role on the Commission. Nana serves as a co-chair of UN Association-National Capital Area's African Affairs Committee where she facilitates in fostering strategic partnerships for governmental and non-governmental agencies within the African diaspora. Her passion for providing resources to diaspora led her to co-found Dine Diaspora – a curated dining experience that connects African Diaspora leaders and change agents while highlighting the unique culinary stories of the diaspora. Nana holds a MPH in Epidemiology and Biostatistics from the George Washington University's Milken Institute School of Public Health.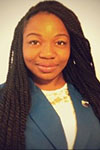 Chibu E. Anyanwu
Appointed on October 27, 2015 | Second Term Commissioner
Country of Origin: Nigeria
Chibu E. Anyanwu, MPH, CHES, is a Certified Health Education Specialist who has worked with various organizations in raising awareness around African Affairs, Cultural Competence, Youth Development, and Health Disparities. Chibu works as a Health Education Specialist at the District of Columbia's Office of the State Superintendent of Education leading the District's first comprehensive physical education/activity and nutrition program for early child care facilities and pre-kindergarten schools. Chibu holds a Bachelor of Science in Pharmaceutical Product Dev. and a Masters of Public Health from West Chester University of Pennsylvania.
Akua G. Asare, M.D. – Chair
Appointed on March 7, 2014 | Third Term Commissioner
Country of Origin: Ghana
Akua Asare's work focuses on linkages between psychological, emotional and social health disparities among those in the African diaspora. She serves in a variety of roles and on a range of civic and community boards, including as Co-Chair of the Montgomery County African-American Health Program's Executive Committee's Mental Health Collaborative. Akua is a graduate of Case Western Reserve University with a BA in International Studies, and a Medical octoratefrom the University of Pittsburgh School of Medicine. As a 2011 APA Jeanne Spurlock Congressional Fellow, Akua worked as the Health Legislative Fellow for Senator Sherrod Brown (D-OH), addressing domestic and global health care issues.
Lafayette Barnes
Appointed on January 3, 2012 | Fifth Term Commissioner
Country of Origin: USA
Lafayette A. Barnes directs the Office of Partnerships and Grant Services (OPGS) in the Executive Office of Mayor Muriel Bowser. Lafayette leads the District's competitive grants development process as well as its policies and procedures for authorizing the solicitation, acceptance, and use of private donations made to the government. He heads the office's capacity building technical assistance and training services for local community, faith-based, and nonprofit organizations. Lafayette is a graduate of Harvard University, John F. Kennedy School of Government's Executive in State and Local Government Program; Georgetown University, Edmund A. Walsh School of Foreign Service's Master of Science in Foreign Service; Virginia Commonwealth University, School of Business Foundation's 2011 International Business Certificate Program; Management Concepts' Grants Management Certificate Program, and the National Forum for Black Public Administrators' Executive Leadership Institute.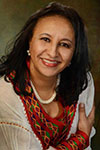 Kedist Geremaw EDS, MSA – Secretary
Appointed on March 7, 2014 | Third Term Commissioner
Country of Origin: Ethiopia
Kedist Geremaw is a healthcare administrator who resides in the greater Washington, DC area. She has worked as an educator, a television reporter, a mentor, a campaign organizer, and a volunteer with organizations in the DC area and overseas. Kedist is particularly committed to addressing issues facing women and children and creating awareness and empowerment for people with disabilities. Kedist holds a BSc. in Biology from Oklahoma City University, an MS in Health Administration from Central Michigan University, and an Education Specialist degree from The George Washington University, where she is currently pursuing a doctoral degree in Disability Studies.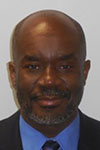 Willair St. Vil
Appointed on October 27, 2015 | second Term Commissioner
Country of Origin: Haiti
Willair brings over thirty years of experience managing workforce development, health and human services, and educational service programs for local and national organizations. Currently a DC Human Resources employee, Willair is a certified mediator in Seattle, WA, and Montgomery County, MD, where he was a member of the first bi-lingual cohort for Conflict Resolution Center of Montgomery County. Willair was trained in leadership development at Leadership Tomorrow (Seattle) in 2001 and Third Sector New England's Non Profit Executive Leadership Development program (Boston) in 2010.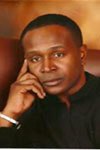 Ikenna Udejiofor
Appointed on October 27, 2015 | Second Term Commissioner
Country of Origin: Nigeria
Ikenna is a versatile real estate manager with extensive experience in development and implementation of real estate solutions, both at local and international levels. He has over seventeen years of portfolio management as well as commercial and residential real estate consulting, acquisition and disposition transaction experience. Ikenna joined DC Government in 2013 and brought a broad range of international experience, including applied knowledge of property practice and financial and performance metrics, to his municipal position. He holds a Bachelor of Science in Economics and a Master of Science in Urban and Regional Planning.