Last Date:
Location:
1942 9th Street, NW, Washington, DC 20001
Building:
Etete Ethiopian Restaurant
Details:
Care about health & wellness of Africans in the District? Join the OAA and the Think.Eat.Act.Move Africa Committee for the official launch reception of a 3-month health education campaign to promote health & wellness for District residents.... Come learn about the vision behind TEAM Africa, meet the TEAM behind the initiative and learn about ways you can get involved! The launch reception will take place on Thursday, February 28, 2013 from 6:30-8:30 pm at Etete Ethiopian Restaurant (1943 9th Street, NW, Washington DC 20001).
Space is limited! RSVP is required! http://teamafricalaunch.eventbrite.com/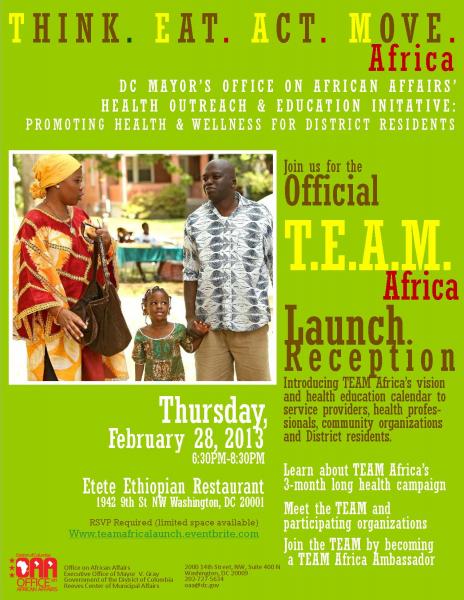 http://teamafricalaunch.eventbrite.com/