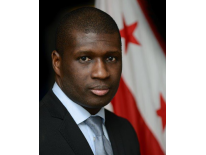 Mamadou Samba was appointed by Mayor Muriel Bowser in January 2015 to serve as the Director of the Mayor's Office of African Affairs (MOAA). Originally from Dakar, Senegal, Mamadou was a former Commissioner of the DC Commission on African Affairs, a role in which he served as a strong advocate for diverse African diaspora communities. Mamadou, has extensive experience in addressing challenges faced by African immigrants in the District and nationwide. He played a significant role in securing grants for African nonprofit organizations, highlighting issues impacting African-born residents in the United States. He also partnered with community groups to develop capacity building, provide cultural sensitivity training, and facilitate education outreach programs to illuminate complex issues, including the negative impact of stereotypes and social stigma.
In 2011 Mamadou was one of six out of nearly 100 candidates selected to join the Capital City Fellows program a mayoral initiative to attract and recruit graduate students to work for the District. As a Fellow, he rotated among several agencies, including the Office of the Chief Financial Officer, the Department of General Services, and the Mayor's Office on African Affairs, where he served as the agency's Public Information Officer. While at MOAA, he researched and compiled the District's first-ever report highlighting African immigrant population growth since the 1960s, highlighting accomplishments and socio-economic challenges and proposing policy recommendations based on the needs of diverse African communities.
Prior to his appointment, Mamadou worked as a Capital Budget Administration Analyst in the Office of the Chief Financial Officer, where he was primarily responsible for the formulation and execution of the District's seven billion dollar Capital Improvements Plan. He specifically oversaw the District Department of Transportation's (DDOT) capital budget in excess of three hundred million dollars annually, including local and highway trust funds.
Mamadou earned a Master of Public Administration degree from Kennesaw State University, and a Bachelor Degree in Political Science from the University of South Carolina Aiken, where he was awarded an NCAA athletic scholarship. He is fluent in French and Wolof.