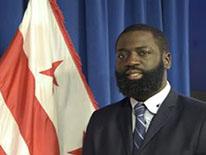 Aly Kaba is the Director of the Mayor's Office on African Affairs (MOAA), where has served in various capacities since 2015, first as the Language Access Program Coordinator, then as the Community Outreach and Relations Specialist, next as the Deputy Director for Grants and Operations, and most recently as the Interim Director.
Throughout his tenure at MOAA, Kaba has dedicated himself to ensuring the District's African immigrants have greater awareness of, access to, and civic engagement in DC government programs and services for economic and social development. An advocate for language access resources and services, he has led outreach efforts to African immigrants with limited English proficiency, which comprise 40% of the District's African residents. He works alongside community-based organizations, commissions, and government agencies to complement MOAA's efforts.
Prior to serving in DC government, he was the Director of Operations at Guinea–Edugrade, a non-governmental organization that promotes education in Guinea. He also previously worked as a Development Economist at the Committee for the Abolition of Third World Debt in Liege, Belgium, where he conducted research on alternative models of financing the development of Africa and analyzed development implications of economic integration in the Southern African Development Community (SADC).
Kaba holds a Bachelor of Arts in Economics and Social Policy and a Master of Arts in International Economics and Globalization with a focus on International Development from the University Pierre Mendes. He is fluent in French, English, Pular, Sosso and Mandinka.
Originally from Guinea, he is a proud resident of Ward 5.